Ashampoo Photo Commander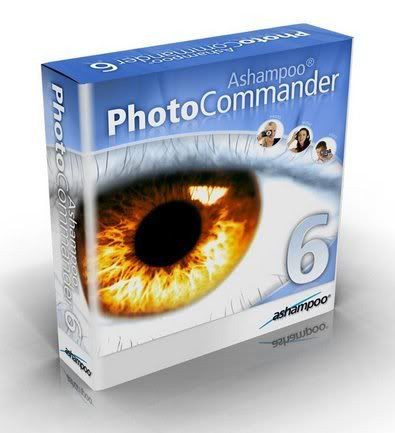 Ashampoo Photo Commander:
Ashampoo Photo Commander 5 is an all-in-one application for organizing, editing, sharing and presenting photo collections. It also features additional creativity tools and audio and video management capabilities, making it a complete media management package.
Major new features and enhancements
Faster: The entire program has been optimized throughout for more speed. For example, thumbnail generation and display are now much faster than ever before.
Better tools: All editing tools have been improved for easier and even better editing quality.
Frame Style Center: This new creativity tool enables you to add artistic picture frames and vignettes to photos. In addition to this you can also create high-quality greeting cards. Includes a wide selection of vignette styles and greeting card templates. Greeting cards can be mailed from within the program.
Collage Tool: Select photos and generate artistic collages complete with background images with a couple of clicks.
Calendar Tool: Create and print 12-month photo calendars in three different styles as novel gifts.
Full-screen editing: A new mouse tool bar makes it possible to edit your photos in full screen mode for maximum detail.
New mouse tools: Callout tool for creating text bubbles, clone tool for retouching photos, eraser tool.
Canon RAW files: Improved support for Canon RAW files, including faster loading.
CD/DVD burning: Completely new burning technology for saving photos and slide shows to CD and DVD.
Batch processing: Now includes an option for adding drop shadows to multiple images at the same time.
Skins: Improved skinning system, now also supports user-created buttons, also with graphic images. Menu colors are skinnable.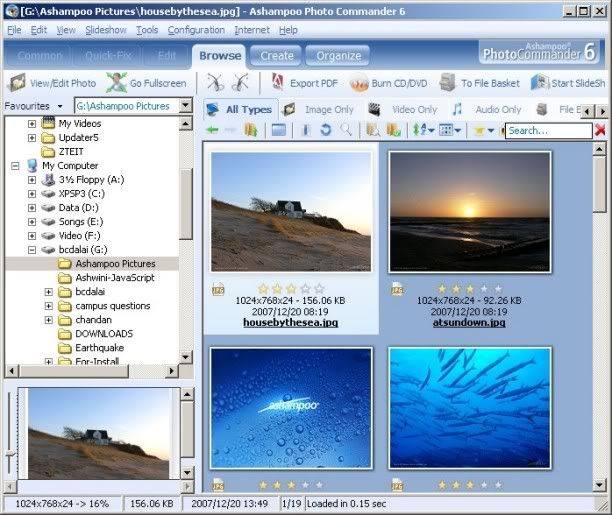 Highlights:
· Optimized throughout for more speed
· Much faster thumbnail generation and display
· Add picture frames and vignettes
· Create greeting cards, collages and photo calendars
· All editing tools improved for easier use and higher quality
· New effects: Drop shadow, radial blur and sepia
· New mouse tools: Callouts (text bubbles), clone and eraser
· Image editing in full-screen mode
· Unlimited Undo/Redo
· Entire user interface overhauled for easier use
New version: Ashampoo Photo Commander 6.0
Organize! Manage even the largest collections of digital photos, audio and video files with ease. Lightning-fast thumbnails and previews, powerful organization tools. Enhance!Correct colors and contrast, straighten horizons, remove red eye and crop with just a couple of clicks. Powerful editing tools and stunning one-click effects. Create!Add picture frames, make slide shows on the web and CD/DVD, and turn your pictures into greeting cards and much more.

New features at a glance:
Quick-Fix Tools: All common operations with a couple of clicks
Unlimited Undo/Redo: For all changes
Browser EXIF mode: Shows the entire photo's EXIF/IPTC information directly under the picture
Quick 5-star ratings: Just click to rate photos with 1-5 stars, supports sorting by rating
Email to PDF: Mail multiple images in a single PDF file
Slide shows with audio: Add more than one audio track to your slide shows

Ratings: 4 1/2 Star- Average User's Rating by CNet.com Review.
Recommended by: bcdalai.blogspot.com
Software Publishers: Ashampoo GmbH & Co. KG


Current version 5.40. Downloaded more than 2.7 lakh times.
Go to Download Page
-----------------------------------------------------------------------------