Complete Review of 7-Zip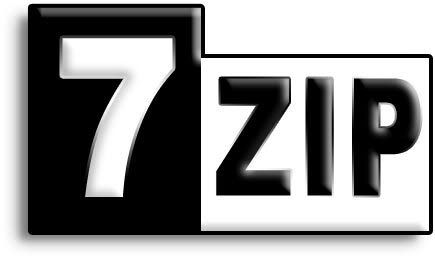 7-Zip
is a file archiver with the high compression ratio. The program supports 7z, ZIP, CAB, RAR, ARJ, LZH, CHM, GZIP, BZIP2, Z, TAR, CPIO, RPM and DEB formats. Compression ratio in the new 7z format is 30-50% better than ratio in ZIP format. The program also compresses files into smaller archives, some 40 or 50% smaller comparing to WinZip.
7-Zip
is open source software. Most of the source code is under the GNU LGPL license. You can use 7-Zip on any computer, including a computer in a commercial organization. You don't need to register or pay for 7-Zip. But if you wish, you can
make a donation
to support further development of 7-Zip.
The main features of 7-Zip
>>High compression ratio in new 7z format with LZMA compression
>>Supported formats: Packing / unpacking: 7z, ZIP, GZIP, BZIP2 and TAR
Unpacking only: RAR, CAB, ISO, ARJ, LZH, CHM, MSI, WIM, Z, CPIO, RPM, DEB and NSIS
>>For ZIP and GZIP formats, 7-Zip provides a compression ratio that is 2-10 % better than the ratio provided by PKZip and WinZip
>>Self-extracting capability for 7z format
>>Integration with Windows Shell
>>Powerful File Manager
>>Powerful command line version
>>Plugin for FAR Manager
>>Localizations for 69 languages
Major Functionality Changes over development:
>>7-Zip now can unpack WIM archives
>>7-Zip now supports WinZip-compatible AES-256 encryption for .ZIP archives.
>>New fast compression mode for Deflate method in Zip and GZip.
>>Now 7-Zip deletes files to the Recycle Bin by default. Shift+Delete delete files permanently.
>>Now it's possible to specify the size of solid block and the number of CPU threads in "Add to archive" dialog box.
>>Support 69 local languages. Will support more local language in future release.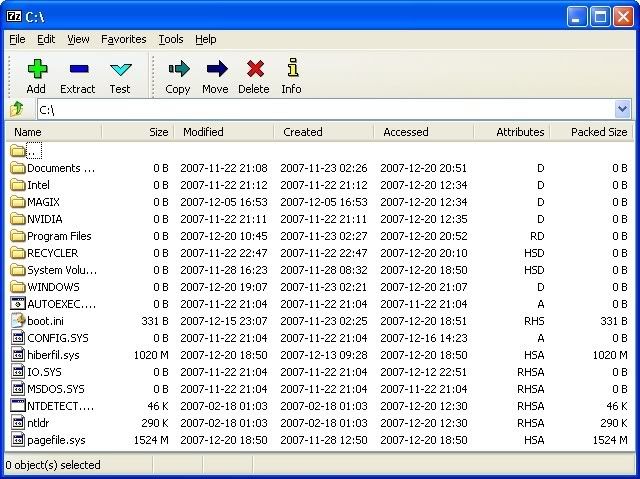 About 7z Format:
7z is a new archive format, providing a high compression ratio.
The main features of the 7z format:
-Open architecture
-High compression ratio
-Strong AES-256 encryption
-Ability to use any compression, conversion or encryption method
-Supports files with sizes up to 16000000000 GB
-Unicode file names
-Solid compression
-Archive headers compression
7z has an open architecture, so it can support any new compression methods.
The following methods currently are integrated into 7z:
Method--Description
LZMA----Improved and optimized version of LZ77 algorithm
PPMD----Dmitry Shkarin's PPMdH with small changes
BCJ----Converter for 32-bit x86 executables
BCJ2----Converter for 32-bit x86 executables
BZip2----Standard BWT algorithm
Deflate----Standard LZ77-based algorithm
Summary:
Publisher: Igor Pavlov (Russia)
File Size: Less than 1 MB or maximum 2MB for other versions.
Version: 4.57 (History)
Last updated: December 07, 2007
License: Freeware
OS support: Windows 98, Windows ME, Windows NT, Windows 2000, Windows XP, Windows 2003, Windows Vista, Windows 2008 and Linux.
Platform: Both 32-bit and 64-bit Operating Systems
7-zip won the 2007 Community Choice Awards. See the details here.
The Command Line version of 7-zip is called p7zip. Download p7zip here.

Ranking with other compression tools:
First Rank: 7-Zip
Second Rank: WinRAR
Third Rank: WinZip
Fourth Rank: WinAce Archiver
Fifth Rank: ZipGenius
Sixth Rank: PowerArchiver
Note: Ranked by bcdalai

Download page:
http://7-zip.org/download.html
Download Now:



Reference:
http://7-zip.org/
http://sourceforge.net/projects/sevenzip/
http://en.wikipedia.org/wiki/7z

Recommended by: bcdalai
Article by: bcdalai
---------------------------------------------------------------------------------