Unable to Install Internet Explorer 7 on Windows
This is the error message shown by
Internet Explorer 7
at the time of installation.
Problem:
If you are trying to install the IE7 on Windows XP with Service Pack 2 or Service Pack 3 RC or in other versions of Windows. In the installation process you will see that it passes the WGA check, but the installation fails at the end and the error message like below image will appear. This problem may occur in other version of windows, because the reason is specific.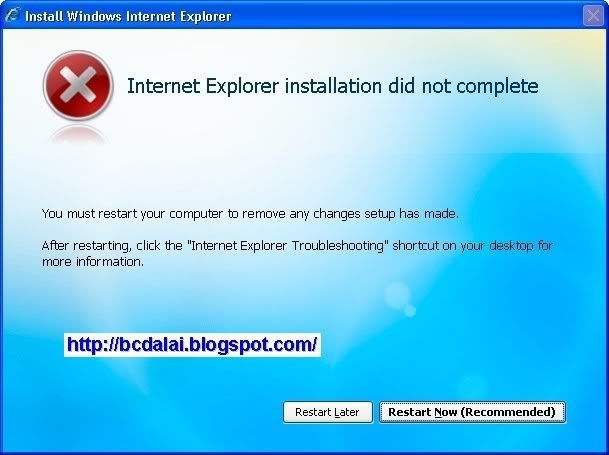 The following error message will appear:
Internet Explorer 7 could not be installed. You must restart your system to confirm that any changes to your system are undone.
After you restart, you will see the "Internet Explorer Troubleshooting" shortcut on your desktop.
If you will open it then it will link to the Knowledge Base(KB) artice 917925. In that article, the following two causes are mentioned:
• Permissions for one or more registry subkeys or for files on the computer are restricted in a way that prevents the update of those registry subkeys or computer files. A failure to update a registry key or a computer file may cause the Setup program to fail.
• Something has caused the computer not to trust the Internet Explorer 7 installation package.
But the reasons and troubleshooting methods mentioned here correct but not sufficient to this type of problems. Read following paragraph to find out the actual cause.
Actual Cause:
1- If you are using a pirated version of Windows that does not pass Windows Genuine Advantage test.
2- If you product ID is invalid for installing fo internet Explorer 7 installation.
3- Sometimes it may pass WGA test but will fail to install
4- If you have Windows XP with Service Pack 3 RC is installed.
5- This is because the version of IE7 you are using is released before 4th October 2007.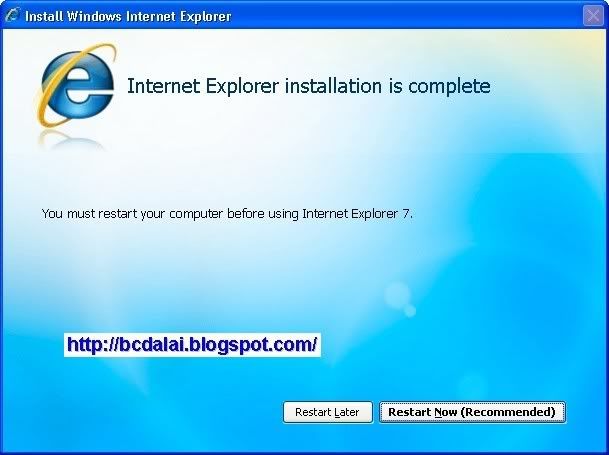 Actual Successful install message
Solution:
Don't worry download and install the latest version of Internet Explorer 7 from microsoft.com or use the version of Internet Explorer 7 released after 4th October 2007. The size of that downloaded file is 14.7 MB as compared to 14.8 MB that released before 4th October 2007. And there will be no problem at the time of install.
Applies To:
All versions of Microsoft Windows where you can install the Internet Explorer 7.
Download
IE7 for Windows XP SP2 or SP3
NOW
. Or go to IE7 download
page
.
Troubleshoot Article By:
bcdalai
------------------------------------
References:
http://bcdalai.blogspot.com/2008/03/internet-explorer-8.html
http://bcdalai.blogspot.com/2010/01/windows-command-guide-2010.html